Barcelona
/
Aquarium
Barcelona Aquarium
L'Aquarium de Barcelona, the largest European marine aquarium

All information and tickets for a visit to the Barcelona Aquarium. L'Aquarium de Barcelona is the largest European marine aquarium, located in Port Vell, the old harbour.
Info Barcelona Aquarium

Address
Moll d'Espanya del Port Vell, s/n Barcelona
Metro
Metro station Drassanes (Line 3) or Barceloneta (Line 4)
Bus
Bus line 19 and 40
Tickets

Tickets adult 21 € (Book online or here)
0-2 years free entry
3-4 years 8 €
5-10 years 16 €

Opening hours

Opened: daily from 10am & Closed:

Monday to Friday: 7.30pm (1) or 8.00pm (2) hours
Weekends: 8.00pm (1) or 8.30pm (2) hours

(1) = from January to March, November and December
(2) = April, May and October

June and September: 9.00pm
July and August: 9.30pm

Website
http://aquariumbcn.com
l'Aquarium de Barcelona
The marine aquarium is located in Port Vell; the oldest part of the Barcelona harbour that nowadays has largely been transformed into a centre of recreation. The Aquarium of Barcelona opened its doors in 1995 and has 35 aquariums holding six million litres of sea water featuring 11,000 sea creatures from 450 different species, such as dozens of sharks, crustaceans, and invertebrates. The Barcelona Aquarium even claims to be the biggest aquarium in Europe. Each tank of the marine aquarium simulates a different sea region, such as the tropical and mediterranean tanks. The sea creatures eat two tonnes of food per week. A computer regulates the lighting to simulate nature.
Oceanarium, the aquarium in Barcelona
The largest tank is the Oceanarium with a volume of four million litres of water. It has a transparent 80-metre tunnel running through it that will let you walk through the aquarium and see the undersea life of the Mediterranean. The aquarium also has an interactive zone that explains different aspects of life in the oceans. The interactive zone for young children in the aquarium is called Explora! that offers activities that let children discover, see, and hear marine life. Visitors that like a little more challenge will be happy to learn that the aquarium offers the chance to dive with sharks.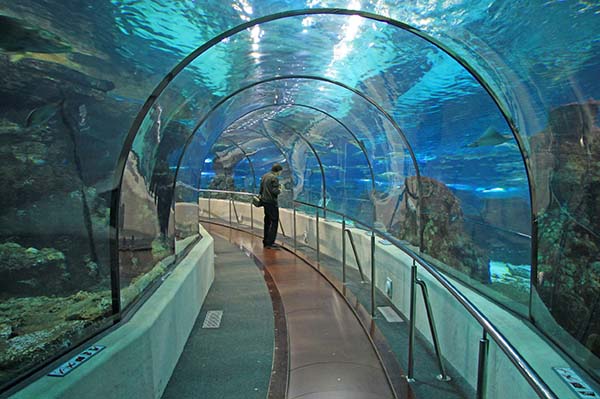 Aquarium of Barcelona (stock.adobe.com/shiler_a)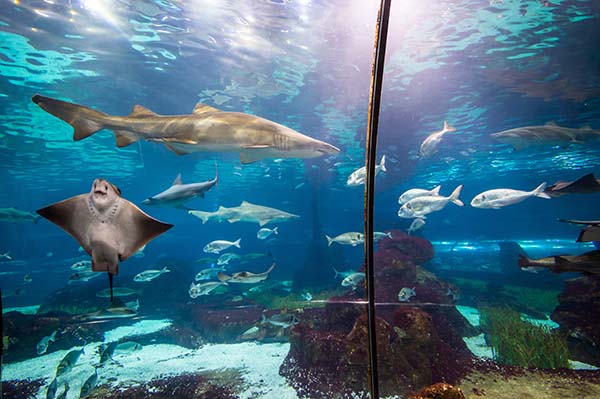 (stock.adobe.com/Fotokon)
Video: Visit to the Aquarium
---
Where is the Barcelona Aquarium?
The aquarium is located in Port Vell , next to the popular shopping centre Mare Magnum. From the end of the Ramblas (seaside), you can easily reach the marine aquarium in ten minutes. Just cross the pedestrian bridge across the port from the statue of Columbus to the Mare Magnum shopping centre. From there it's just a 200-metre walk to L'Aquarium.
The following attractions are nearby: