Barcelona
/
Hotels Barcelona
Best hotels in Barcelona Spain
What are the best hotels in Barcelona?

Links to the best hotels, cheap guest houses and other luxury accommodations in Barcelona Spain. What are the best hotels to stay in Barcelona?
Beste hotels in Barcelona
Are you looking for a hotel in Barcelona? On this page we will tell you all about the best hotels from cheap budget to 5 star luxury hotels and you can read about the best areas in Barcelona Spain as a base for your hotel:
Cheap hotels in Barcelona
Mid-range hotels
Luxury hotels
5 star hotels
More hotels in Barcelona
Best district for your hotel in Barcelona
Avoid a hotel on La Rambla; your hotel might be centrally located for all the major attractions, but lively Ramblas can be quite noisy. It's best to look for your hotel or hostel in Barcelona in one of the city's following quarters:
1. El Born: This district is ideally situated between the Gothic Quarter and Barceloneta (beach and harbour). Fun shopping in the narrow streets with authentic shops, drinks, restaurants, and all the sights within walking distance of your Barcelona hotel.
2. Gracia: This is a fun student district. It has many fun little places to eat, restaurants, and nice bars popular among the locals. This district Gràcia is not far from Park Guell, but you'll need to take the metro metro to get to other attractions.
3. El Raval: A district that is becoming increasingly hip and is the most artistic and alternative neighbourhood in Barcelona. It has many new shops and restaurants by local entrepreneurs. At night the neighbourhood can be less appealing, but the district around the square of Rambla de Raval is very pleasant.
4. Poble Sec: This district is located between the Montjuïc and the hip El Raval. Upcoming (hip) district with new bars, restaurants, and many shops, such as the shopping centre Las Arenas.
5. Eixample: Barcelona's largest district with long, wide streets, quality shops, good luxury hotels, and various clubs and restaurants. This makes Eixample a fine district for your stay. The district is home to the Sagrada Familia, Casa Mila, and shopping street Passeig de Gràcia.
6. El Poble Nou: This district (the former fishing village) is not as crowded, but it's hip and there are many fun squares with lots of bars and restaurants. One advantage is that the beach will be close to the hotel (the map below shows El Poble Nou just off the map near Vila Olimpica).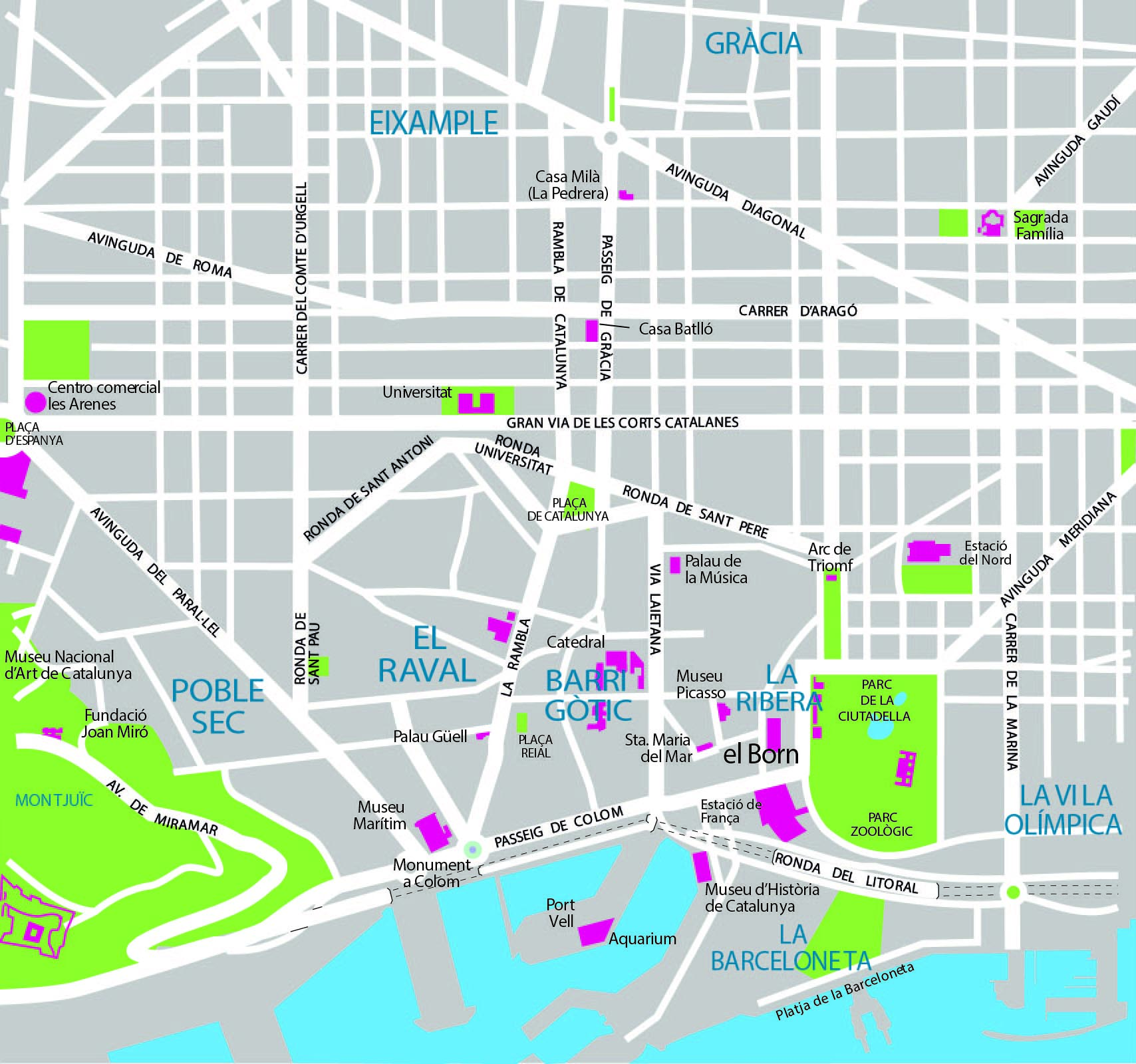 The quarters of Barcelona
Hostels in Barcelona Spain
Travelling on a budget? According to various evaluations, here are the best budget hostels in Barcelona:

Our readers say
4.8
(95.83%)
13
reviews
July 10, 2023
Michael

: "

We had an amazing trip to Barcelona city because of the interesting local tips for sightseeing, activities and best things to do in Barcelona Spain.

"