Barcelona
/
Magic Fountain
Font Màgica Barcelona
The Magic Fountain of the Montjuïc - A show of music, lights and colors
Visiting the magical fountain, Font Màgica de Montjuïc in Barcelona. The times for the water organ with its fountain show of light, water, and sound in Barcelona.
Info Font Màgica Montjuïc

Address
Pl. Carles Buïgas, s/n Barcelona
Metro
Metro station Espanya (Line 1 or Line 3)
Entrance
The visit of the magic fountain in Barcelona is free
Opening hours

April 1 - May 31: Thursday, Friday and Saturday
Times fountain show: 9.00pm - 10.00pm
June 1 - August 30: From Wednesday to Sunday
Times fountain show: 9.30pm - 10.30pm
September 1 - October 31: Thursday, Friday and Saturday
Times fountain show: 9.00pm - 10.00pm
November 1 - March 31: Thursday, Friday and Saturday
Times fountain show: 8.00pm - 9.00pm
January 6 - February 16 closed

Website
www.bcn.cat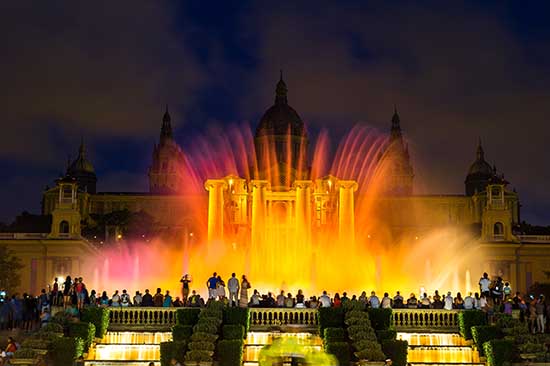 Font Magica (stock.adobe.com/Sergii Figurnyi)The largest fountain of Barcelona (Font Màgica Montjuïc) was built in 1929 during the World Fair. In the evenings, the magical fountain gives a spectacular fountain show with music, water acrobatics, and light. It's with good reason that the Font Màgica Montjuïc is one of Barcelona's most popular tourist attractions (2.5 million visitors a year).
Visit fountain Barcelona
The magical fountain is located at the end of the Avinguda Reina Maria Cristina that starts at Plaça d'Espanya, and just below the Palau Nacional. Even when the Font Màgica is not in operation, you will still get to see one of the most spectacular views of Barcelona from the Montjuïc of Barcelona. The Magic Fountain is something you don't want to miss during your city break in Barcelona.
Video: Impression Magic Fountain Barcelona
---
Where is the fountain in Barcelona?
Easily get to the magical fountain from metro stop Espanya. When you get off at this metro stop (L1 or L3), you will be able to see the Palau Nacional on the slope of the Montjuic. In just ten minutes, you'll be walking up the Montjuic hill among the Venetian towers via the automatic escalators to reach the Font Màgica.
Near the Magic Fountain are: