Barcelona
/
Picasso Museum Barcelona
Picasso Museum Barcelona
Visiting the Museu Picasso in Barcelona & Tickets

All information and tickets for visiting the Pablo Picasso museum in Barcelona. See his masterpieces in Museu Picasso Barcelona.
Info Picasso Museum Barcelona

Address
Carrer de Montcada 15-23
Metro
Metro station Jaume I (Line 4)
Tickets

Adults 12 € (New: you can now also reserve your skip-the-line tickets online, highly recommended considering the long queues!)
0 - 18 years: free entry and 65+ 7 €

Tip 1: Would you like a guided tour? Book your tour via this website.

Tip 2: Visit multiple art museums? Check out the Barcelona Art Ticket. Its €30 are probably a better deal for you, and you'll get skip-the-line tickets. More information.

Opening hours

Tuesday to Sunday: 10:00am to 7:00pm
The museum is closed on Mondays
Thursday 9:00am - 9:30pm
Closed January 1st, May 1st, June 24th and December 25th. Closed at 2pm on December 24th and 31st.
Free entry to Museu Picasso on Sundays after 3pm. In addition, every first Sunday of the month you can visit the Museo Picasso for free.

Website
http://museupicasso.cat
Pablo Picasso & Barcelona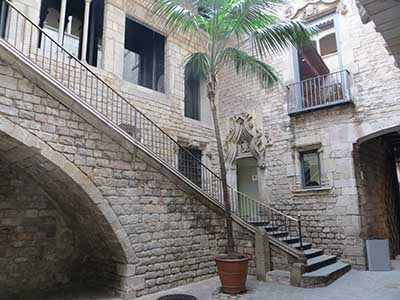 The Picasso museum of Barcelona is one of the most popular tourist attractions in the city of Barcelona. The museum Picasso has three storeys and over 4,300 artworks by painter Pablo Picasso from the period 1890-1957. The Museo Picasso that opened in 1963 is housed in five adjacent medieval palaces in the district La Ribera. The artworks by painter Pablo Picasso on display in the gallery belong to cubism and surrealism as well as other styles. The Museo Picasso in Barcelona is one of the three museums (in addition to the Museo Picasso Malaga and Paris) that was named after and is dedicated to Spanish painter Pablo Picasso.
Picasso Museum Collection
Highlights of the museum collection are two of his biggest works, the First Communion (1896) and Science and Charity (1897); this early period of Picasso is well covered in the museum. The collection of 57 works from the series 'Las Meninas', the only series of works by Picasso that are all on display in a single museum is noteworthy as well. In addition, the Museo Picasso has a large collection of prints, oil paintings, drawings, and even ceramics; plus of course a photo exhibition about the life of Pablo Picasso.
The Museu Picasso reveals Picasso's connection to the city of Barcelona, a relationship that was shaped in his youth and adolescence, and continued until his death. When Pablo Picasso was fourteen years old, he enrolled in the Barcelona Academy of Fine Arts. He had excellent drawing skills from a very young age. Picasso also graduated in Barcelona and took his first steps there as a painter toward Modernism and Modern Art.
Visit Museu Picasso
If you wish to visit the Picasso Museum, it's a good idea to prepare. Don't be surprised if you have to stand in line for a good two hours for tickets during the high season – which lasts quite a few months in Barcelona. You can avoid that hassle with skip-the-line tickets.
---
Video: Museu Picasso
---
Where is the Picasso Museum in Barcelona?
The Museo Picasso is located near metro stop Jaume I in the centre of Barcelona. From this metro stop, you walk down the Carrer de la Princessa for 200 metres, after which you take a right onto the Carrer de Montcada where you will immediately spot the long queues for the museu Picasso.
Close to the Picasso Museum: