Barcelona
/
Santa María del Mar
Santa María del Mar
The basilica of 'Santa María of the Sea' in Barcelona

Everything about the Santa María del Mar, the basilica of 'Santa María of the Sea' in Barcelona. A Gothic church in the La Ribera venerating the Holy Mary.
Basilica of Santa María del Mar in Barcelona

Address
Plaça de Santa Maria, Barcelona
Metro:
Metro station Jaume I
Opening hours
The church of Santa María del Mar is free to visit:

Monday to Saturday from 9:00 am to 1:00 pm and from 5:00 pm to 8:30 pm
Sundays and public holidays from 9:00 am to 2:00 pm and from 5:00 pm to 8:30 pm

The basilica, the crypt and the choir are paid:

Every day from 1:00 pm to 5:00 pm for 5 euros
Every hour you can visit the basilica, the towers and the roof for 8 euros
The Cathedral of 'La Ribera''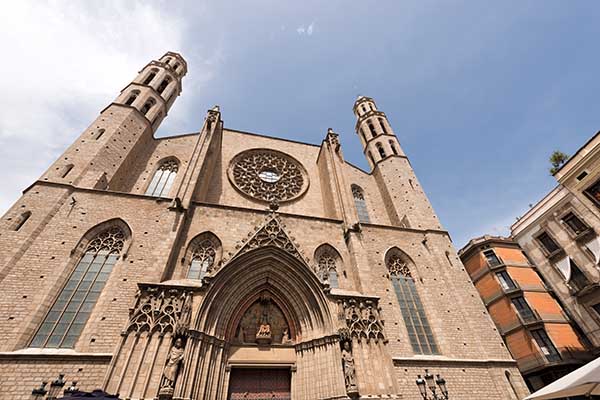 The Santa María del Mar basilica vof Barcelona, located in the district La Ribera, is a church that was built between 1329 and 1383, during the heyday of Catalonia as a trading and sea-faring nation. It's also called the 'cathedral of La Ribera'. The church is an excellent example of Catalan gothic, with a purity and unity of style that was very rare in the Middle Ages. The short, uninterrupted construction period – by the standards of the day – is probably the reason for that.
Tower of Santa María del Mar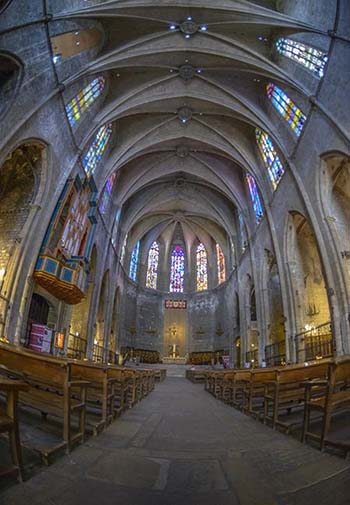 Inside the basilica (iStock.com/ BargotiPhotography )The first mention of the 'Santa María of the Sea' was made in 998. Construction of the present-day church was stimulated by the clergyman Bernat Llull, who was appointed archdean of the Santa María in 1324. Construction workers started work on 25 March 1329, after the first stone was laid by King Alfonso IV of Aragon, which is commemorated with a plaque in the church. By 1350 much of the exterior walls of the church was complete.
Santa Maria del mar
A fire in 1379 caused serious damage to some of the works of art. On 3 November 1383, construction of the basilica Santa María del Mar was completed, and on 15 August of the following year, it was consecrated. In 1428, an earthquake caused significant damage as well, for instance to the rose window in the west façade. The new window was completed in 1459, and the stained-glass art was restored a year after that. Of both towers, the north-west one was completed in 1496, while the south-west one was not completed until 1902. Many statues and the altar were destroyed in a fire during the Spanish Civil War. By 1967, the basilica had been restored to its former glory.
Want to visit more churches in Barcelona?
Interested in churches? Be sure to visit the Sagrada Familia and the cathedral La Seu in Barcelona.
Location of the Santa María del Mar church in Barcelona
Near the Basilica of Santa María del Mar are: