Barcelona
/
Beaches
Beaches of Barcelona
What is the best beach in Barcelona?

Visit the Barcelona beaches? Read about Barcelona's five city beaches: From Barceloneta to Playa Lllevant.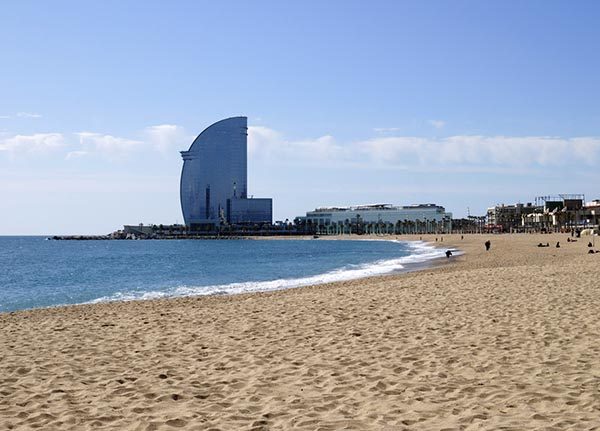 Beach of Barcelona (iStock.com/Nickos)
Beaches of Barcelona
Barcelona has one of the most beautiful coastlines in the world with a length of four kilometres of sunning and swimming opportunities. The beach runs along the northern district of Barceloneta toward Badalona in the south, and each beach has its own cosy chiringuitos (beach bars). If you want to go to the beach ("Platja"), it's best to take the yellow L4 metro line that runs parallel to the beach. All the beaches in Barcelona have showers and lifeguards. There is also a long boulevard with cycling path running along the beach, great for running or cycling.
Beaches of Barcelona

Sant Sebastià and Barceloneta
Metro: Barceloneta or Ciutadella-Vila Olímpica (L4), 10 minutes from the metro to the beach
The two longest (and most crowded) beaches of Barcelona. The beaches of Barceloneta are relatively narrow and are closest to the tourist area. The Barceloneta beach also has volleyball courts, table tennis tables, and a children's playground.
Nova Icària
Metro: Ciutadella-Vila Olímpica (L4), 10 minutes from the metro to the beach

This small but busy beach lies behind the twin towers (you can identify it by the Peix d'Or, the golden fish) and the Olympic harbour. Many beach bars and a volleyball court. The beach is very popular among the Spanish and the most sporty section of beach of them all.

Beach Nova Icara in Barcelona (stock.adobe.com/boule1301)
Bogatell
Metro: Poblenou and Llacuna (L4)
Bogatell is a less crowded and somewhat wider beach with mainly locals. There's usually enough room to find a beach spot for a group here.
(Nova) Mar Bella
Metro: Selva de Mar and El Maresme (L4)
Mar Bella is a beach on the coast of the Poble Nou district. Part of this Barcelona beach is a nudist beach for nude sunbathing.
Llevant
Metro: Selva de Mar or El Maresme (L4)
Short sandy beach at Poble Nou, certainly the most quiet of all the beaches. A great place to avoid the beach hawkers.