Barcelona
/
Palau Güell
Palau Güell Barcelona
Palau Güell is a palace in Barcelona and one of the works of Gaudí

Palau Güell is a palace in Barcelona and is one of the works of the architect Antoni Gaudí. Info & Tickets to visit the Güell Palace.
Info Palau Güell Barcelona

Address
Carrer Nou de la Rambla, 3-5 Barcelona
Metro
Metro station Liceu (Line 3)
Tickets

Adults 12 € (with audioguide); Book online
10 - 17 years 5 € / 0 - 10 years: free entry / Students and 65+ 9 €

Opening hours

November 1 - March 31: daily from 10 a.m. to 5.30 p.m.
April 1 - October 31: daily from 10 a.m. to 8 p.m.

Website
http://palauguell.cat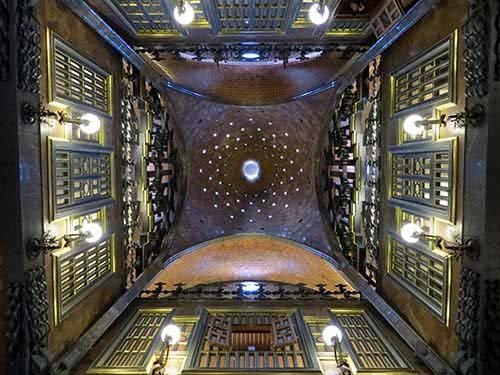 Palau Güell, a palace of Gaudí
ThePalau Güell of Gaudí was built between 1886 and 1890 and is located near the famous Ramblas. The Palau Güell is a dark and modernist palace built for the wealthy industrialist and shipping magnate Eusebi Güell; he was a lover of the works of Gaudi and also financed several of Gaudi's projects. Palau Güell, Gaudi's first true commission, has one of Barcelona's most spectacular interiors, which is part of why it earned a place on the World Heritage List in 1999. This palace is not as well known as the other creations by Gaudí, but it's certainly worth a visit.
Güell & Gaudi
Güell and Antoni Gaudí spared no expense when building this dream palace. The interior of Palau Guell is just as special as the Palazzo's exterior. Gaudi's natural shapes and playful décors are one of a kind. Even the roof terrace of this palace has been adorned with mosaics. The chimneys and ventilation shafts have all been tiled in a different fantastic manner. It makes the flat roof of the Guell palace look like a fairytale garden. The roof symbolises heaven that Gaudí represents as 'out of this world' and offers a beautiful view of Barcelona's city centre.
The palace's basement is dark and used to be quite filthy. That's because the stables were located in that basement, and the horses could enter and leave via the gradually sloping stairs. The lowest floor of the Palau Guell is meant to represent hell according to Antoni Gaudí, which he imagines as 'dark and filthy'. The Güell family lived in the palace until they moved to Park Güell. In 1945, Eusebi Güell's youngest daughter donated the palace to the city of Barcelona.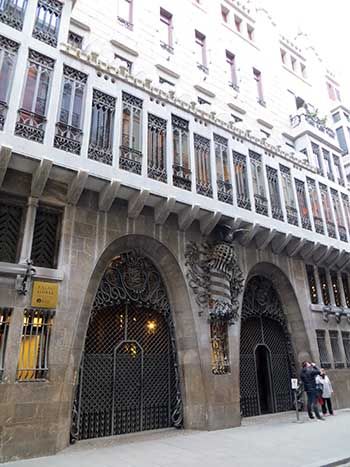 Entrance of Palau Guell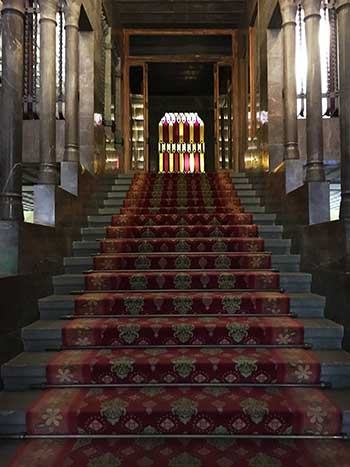 Roof of the palace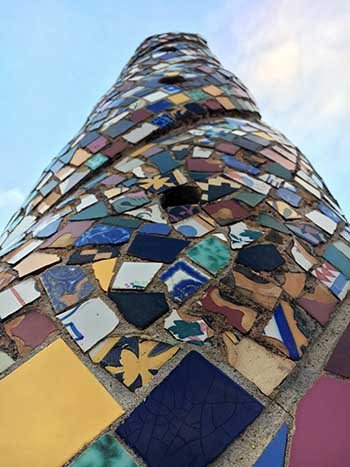 The chimneys with mosaic
Where is the palace in Barcelona?
Close to Palau Güell are: