Barcelona
/
Cycling in Barcelona
Cycling Barcelona & Bicycle tours
Renting bicycles and guided bike tours in Barcelona

Everything about renting a bike and cycling in Barcelona. Organized guided bike tours in Barcelona, the ideal way to discover the city.
Cycling in Barcelona & Guided bike tours
Do you want to enjoy cycling in Barcelona? Barcelona is an ideal city to discover by bicycle. You can rent a bike on your own or participate in an organized bike tour. These organized cycling tours are usually also accompanied by an English-speaking guide. In the city of Barcelona and along the beach many cycle paths have been laid, but if a cycle path is missing it is also permitted to cycle on footpaths of more than 5 meters wide in the city. At smaller footpaths you will have to cycle on the road in Barcelona. The bicycle is an ideal way to cycle past sights like the Sagrada Familia, Parc de la Ciutadella, the beach or the Gothic Quarter.
Barcelona guided bike tours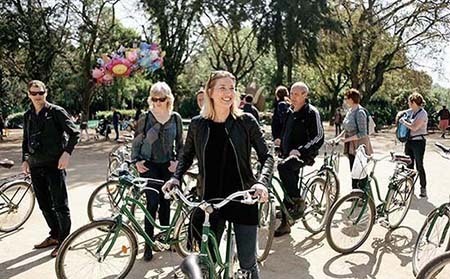 A cycling tour organized by a local English-speaking guide is therefore the best way to get to know the city and its surroundings for the first time in Barcelona. From my own experience I know that the guides will tell you interesting stories and anecdotes about the city. On this website you can book various bike tours from 19.50 euros or rent a bike yourself for a day. Some examples of bicycle tours you can book at this website:
Bringing bicycles on public transport
Outside rush hour, during the weekend and during the summer holidays, bicycles may also be taken on the Barcelona metro. They are always welcome on the regional trains of FGC.
Barcelona bicycle project
In addition, Barcelona has a bicycle project for residents of the city. On the photo above you can see the red, white, black bikes that are parked and cycling all around Barcelona. This bicycle lending project is more intended for residents and not so much for tourists, because registration for the borrowed bicycles will take some time. As a tourist it is better to rent Barcelona bikes at one of the above companies.