Barcelona
/
Foundation Joan Miró
Foundation Joan Miró
The 'Fundació Joan Miró' is an art museum in Barcelona

Everything about Fundacio Joan Miró, the Miro museum with works by the Spanish painter and sculptor Joan Miró and other surrealism in Barcelona.
Info Foundation Joan Miró Barcelona

Address
Parc de Montjuïc, s/n Barcelona
Metro
Metro station Parallel (Line 2 or Line 3)
Tickets

Adults 13 € / Tip: Order online to avoid the long queues
0 - 14 years: free entry
If you plan to visit multiple art museums, a Barcelona Art Ticket will give you a better deal

Opening hours

Tuesday - Saturday: 10:00am to 7:00pm (October - June)
Tuesday - Saturday: from 10.00am to 8.00pm (July and September)
Thursday: 10:00am to 9:00pm
Sunday and public holidays: from 10.00am to 2.30pm
Closed on Mondays (except holidays)

Website
http://fundaciomiro-bcn.org
Fundacio Joan Miró is the museum for the most important works by artist Joan Miró. There are also other varying exhibitions of contemporary painters and sculptors in the Miro museum of Barcelona. The museum Foundation Joan Miró was commissioned by Miró himself and built in the Parc de Montjuïc of Barcelona. It was completed in 1975. He imagined the Miro museum as a gallery where the public could get acquainted with contemporary art and of course Miró's own works.
Collection of the Joan Mirò museum
Joan Miró is considered one of the greatest surrealist painters of his generation. The museum collection (largely by Miró himself) consists of over 10,000 works of art: paintings, drawings, sculptures, tapestries, and the nearly complete graphical works of Spanish painter, sculptor, and ceramist Joan Miró and other modern artists, such as Alexander Calder, Mark Rothko, and Marcel Duchamp.
Visiting the Miro museum & Tickets
Please keep in mind that the Miro museum sometimes has long queues. It's advisable to order your tickets to this Miro museum here in advance.
Joan Miró
Joan Miró was born on 20 April 1893 in Barcelona and was a surrealist painter and sculptor. He was born as the son of a gold smith and received his art training in Barcelona. In 1920 he moved to Paris where he was introduced to Picasso and others and experimented with cubism for a while. After he met André Breton, he also started to create more and more works in the surrealist style. His 'unrealistic' works mainly show the colours blue, red, yellow, black, and green, representing memories, dreams, and fantasies.
In 1942, Miro returned to his childhood home in Barcelona, after which he moved to Majorca in 1956. His museum, designed by architect Josep Lluis was opened in Barcelona in 1976 to display an important part of his works. Miró died in 1983 at the age of 90. Today he, along with Dali and Picasso, are considered the three great Spanish Masters of 20th-century modern art.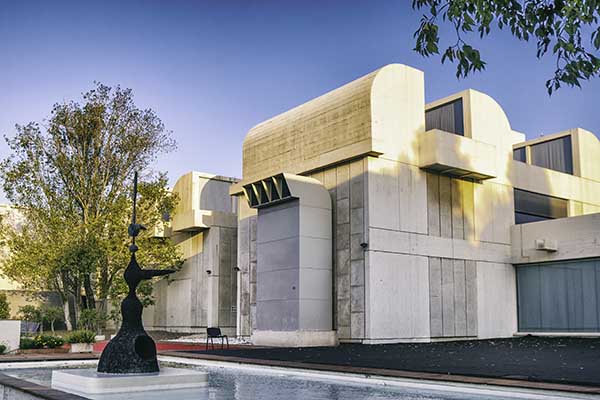 Fundació Joan Miró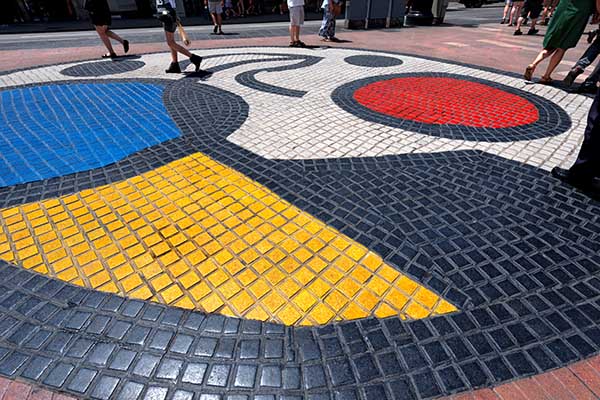 Art of Miro at the Ramblas
---
Where is the museum in Barcelona?
Close to Fundacio Joan Miro are: