Barcelona
/
Port Cable Car
Port Barcelona cable car
Transbordador Aeri del Port - Cable car across the harbor of Barcelona

Transbordador aeri del port Barcelona is the 1.3-kilometre cable-car system across the harbor of Barcelona.
Info & Tickets Transbordador aeri del port

Address
C/ Taquígrafo Garriga, 97 Barcelona
Metro
Barceloneta
Tickets
Opening hours
The cable car leaves every 15 minutes. Every day from 11:00am to 5:30pm (winter) or from 10:30am to 8:00pm (summer)
Website
Official website
Cable car across Barcelona port
The Transbordador aeri del port is the 1.3-kilometre cable-car system across Barcelona harbor (Port Vell). Travel over the harbor using the harbor cable car (gondola) to get from the Sebastià tower in Barceloneta to the Miramar viewpoint on Montjuïc hill. The Barcelona cable-car system was designed in 1929 for the World Fair on the Montjuïc, but not completed until 1931. The trip from Port Vell to the Montjuic takes ten minutes and reaches an altitude of 70 metres. This cable car offers one of the most spectacular views of the Barcelona harbour!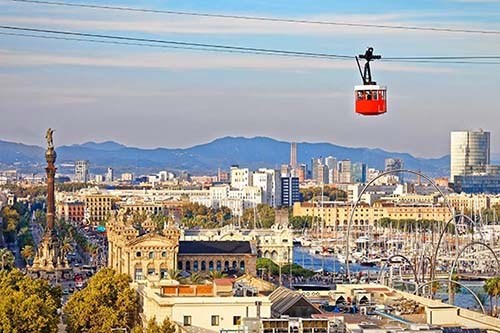 Gondola of Transbordador Aeri del Port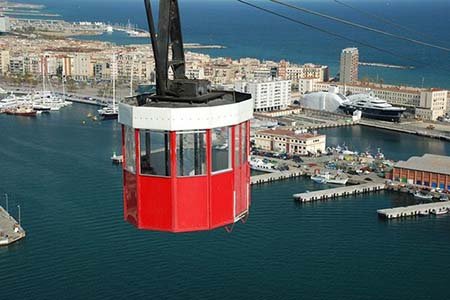 Cable car in the port of Barcelona
The two Barcelona cable cars
Please note: this is a different cable car than the Telefèric de Montjuïc. That cable car takes you to the top of the Montjuïc. At Castell de Montjuïc you will then get a lovely view of the city of Barcelona. After arriving with the 'Transbordador aeri del port' you can easily transfer to the other Montjuïc cable car to the top of the Montjuic .
---
Where is the port cable car in Barcelona?
Close to the Transbordador Aeri del Port are:

Our readers say
4.8
(95.83%)
13
reviews
July 10, 2023
Michael

: "

We had an amazing trip to Barcelona city because of the interesting local tips for sightseeing, activities and best things to do in Barcelona Spain.

"