Barcelona
/
Cathedral of Barcelona
Cathedral of Barcelona
The cathedral 'La Seu' located in the Gothic quarter of Barcelona

Visiting the cathedral of Barcelona; All the information about Catedral La Seu in Barcelona's Gothic Quarter
Cathedral of Barcelona

Address
Plaça de la Seu, s/n Barcelona - Metro station 'Jaume I'
Opening hours
From Monday to Saturday:

8.00am - 12.45pm (Monastery: 8.30am - 12.30pm): free admission
1.00pm - 5.00pm: church entrance 6 euros
5.45pm - 7.30pm (Monastery: 5.45pm - 7.00pm): free admission

Sunday and holidays:

8.00am -1.45pm (Monastery: 8.30am - 1.00pm): free admission
2.00pm - 5.00pm: church entrance 6 euros
5.15pm - 7.30pm (Monastery: 5.15pm - 7.00pm): free admission

Website
http://catedralbcn.org
Entrance
Visiting the roof of the cathedral 3 € / Visiting the choir 2.80 €
The cathedral in Barcelona's Gothic Quarter was named for the patron saint of Barcelona, Saint Eulalia; the official Catalan name - Catedral de la Santa Creu i Santa Eulalia - means Cathedral of the Holy Cross and Saint Eulalia. The commonly used name La Seu cathedral refers to the status of the church as the seat of the diocese. After the Sagrada Familia, this is the most important church of Barcelona.
The history of the cathedral "La Seu"
As early as in 343 CE, in Roman times, a church was built at the site of the present-day cathedral. The basilica was destroyed by the Moors in 985. It was replaced by a Romanesque cathedral, built between 1046 and 1058. A Romanesque chapel, the Capella de Santa Llucia, was added between 1257 and 1268. It was later integrated into the cloister next to the cathedral.
As a result of civil wars and the black death that plagued Barcelona several times, construction of the cathedral only progressed slowly. It was not until 1460 that the main building of the cathedral was finally finished. The Gothic façade was added much later, in 1889, and the most recent part, the cathedral's central tower, was completed in 1913.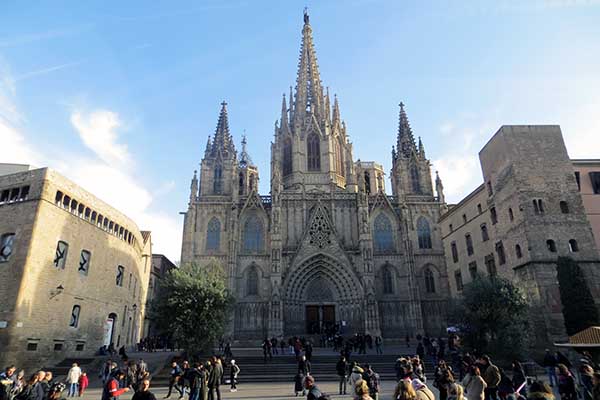 'Catedral de la Santa Creu i Santa Eulalia'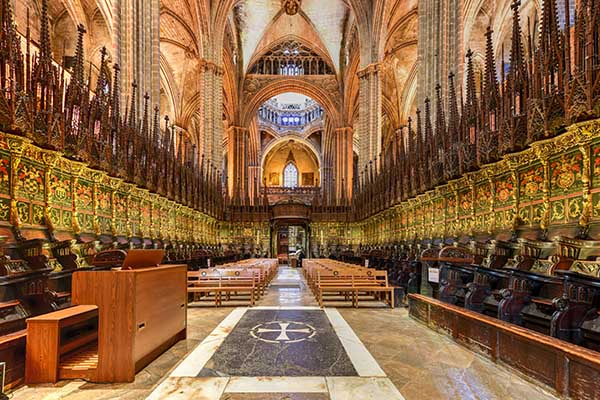 The choir of the cathedral
Catedral Santa Eulalia
This church in Barcelona has a length of 93 metres and a width of 40 metres. The octagonal bell towers reach a height of over 50 metres. They were built between 1386 and 1393.
The spire of the central tower reaches a height of 70 metres. Inside the church there is a wide nave with 28 side chapels. The basilica's crypt contains the sarcophagus of Santa Eulalia. In addition, the Barcelona cathedral also has a beautiful choir with woodcarving.
Convent of Santa Eulalia
Next to the Barcelona cathedral is the 14th-century cloister. Thirteen geese are always present in the cloister's central courtyard. Each goose represents a year in the life of martyr Santa Eulalia, a young girl who was tortured to death by the Romans because of her religion in the 4th century.
Sardanes: Catalan Dance on the Church Square
The 'Sardanes' is the traditional Catalan dance which involves people dancing in a typical hand-in-hand circle. The dance is supported by eleven musicians and twelve instruments. Demonstrations of the 'Sardana' dance are performed on the square in front of the cathedral on a weekly basis.
February 9 - July 13 and September 14 - November 17: every Saturday at 6.00pm
September 15 - July 28: Sundays and holidays at 11.15am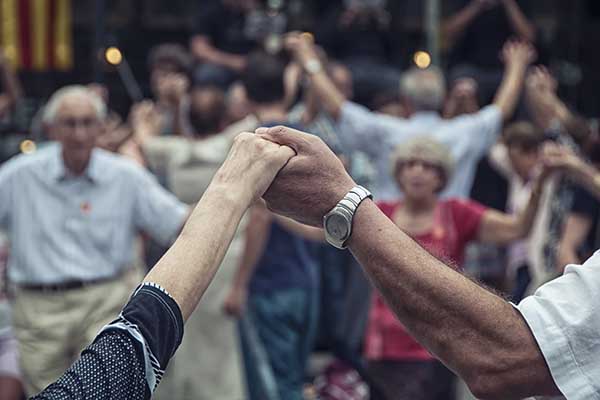 Sardana dance in front of the cathedral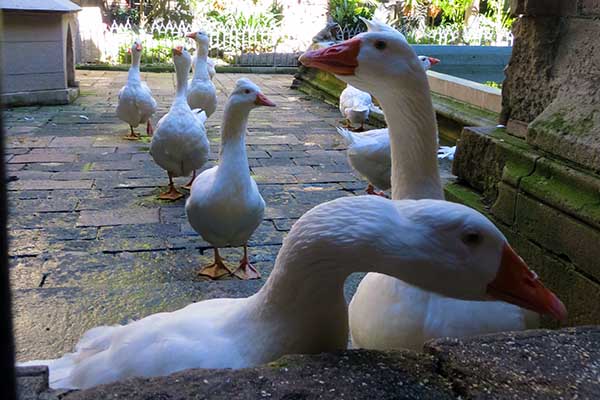 The 13 geese in the monastery
Where is the Barcelona Cathedral located?
Near the Cathedral of Barcelona are: