Barcelona
/
The Crypt of Colonia Güell
The Crypt of Colonia Güell
The Crypt is one of the incomplete works of Antoni Gaudí

Near Barcelona, you can visit the village of Colonia Güell. It's a former textile town that was run by industrialist Eusebi Güell and is where the yet-to-be completed crypt of Antoni Gaudí is located.
Crypt of Gaudí & Colonia Güell

Address
Carrer de Claudi Güell in the town Santa Coloma de Cervelló
Accessibility

The most obvious way to get to Colonia Guell is per 'Ferrocarril'. From the metro station at Placa d'Espanya, you can take Ferrocarril S4, S8, and S33 to travel to the village in 20 minutes. When you reach the 'Colonia Güell', it's a five-minute walk following the signs.
If you travel by car, there is plenty of free parking in the area.

Opening hours

Monday to Friday 10:00am to 5:00pm (November 1 to April 30)
Monday to Friday 10:00am to 7:00pm (May 1 to October 31)
Saturday / Sunday / holidays 10:00am - 3:00pm
Closed on 1 and 6 January, 20 and 25 March, 25 and 26 December

Tickets
Please remember to always report to the visitors' centre first:

Adults: 7 euro + audioguide 2 euro (Book online)
65+ and students: 5,50 euro + audioguide 2 euro
Tickets + guided tour of the crypt and Colonia Güell: 11,50 euro (Book online)
Tip: At the ticket machines of the Ferrocarril at Placa d'Espanya, you can easily buy combined tickets "crypt ticket/Colonia Güell + train return ticket" for 15 euros.

Website
www.gaudicoloniaguell.org
Colonia Güell
A twenty-minute train ride from Barcelona's city centre (23 km) will take you to 'Colonia Güell'. This village, also known as Santa Coloma de Cervelló, was founded by the wealthy industrialist Eusebi Güell in 1890. Here he founded a community for the workers in his textile industry to avoid the social strife of the city. The industrial colony was equipped with the latest technology, and housing for workers was built around the factory; the company provided for its employees' social and economic life. Modernist architects such as Fransesc Berenguer and Joan Rubió gave the buildings their typical style (including a theatre and a school). He gave the commission for a church to his friend Antoni Gaudí.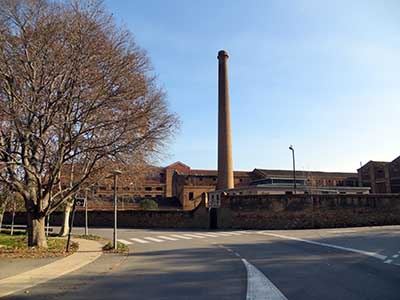 Eusebi Güell's old factory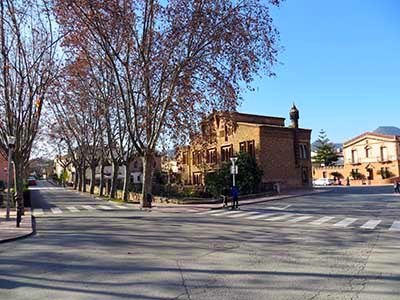 Colonia Güell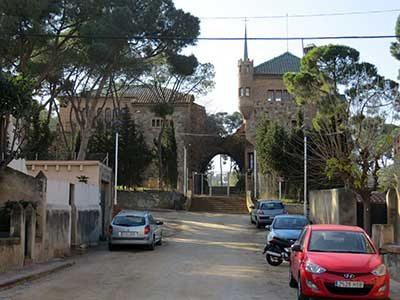 The school
The crypt of Gaudí
When Eusebi Güell commissioned Antoni Gaudí to build a church for the community, he never specified a limit to the budget, the design, or the completion date. In 1908, he started construction on this ambitious project, but unfortunately the 40-metre high structure was never completed because money ran out in 1914. Only the lower crypt was completed, and Eusebi Güell's chose to spend their money on other things. Gaudi's crypt is nevertheless a milestone in his work, as it was the first building for which he combined all his architectural innovations in a single design. With its irregular shapes, the crypt can feel like a cave. No two columns are alike and the stained glass windows with the many mosaics complete the work.
Colonia Güell, World Heritage List
During the civil war in 1936, the factory became state owned, but their property was returned to the Güell family years later. They then sold their factory to other wealthy industrialists in 1945. It's final closure came in 1973 when the textile industry was in crisis. Nevertheless, the typical atmosphere of the peaceful village has remained intact, making this town a rightful addition to the UNESCO World Heritage List. A tour of Colonia Güell is definitely worth it for anyone interested in Gaudi.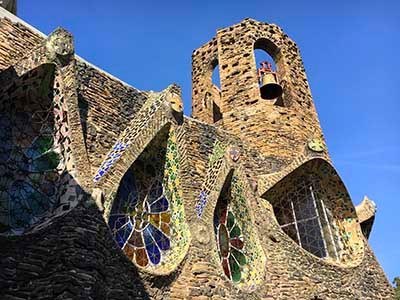 Characteristic mosaic and colored glass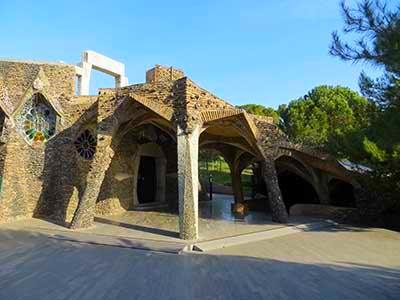 Crypt of Gaudí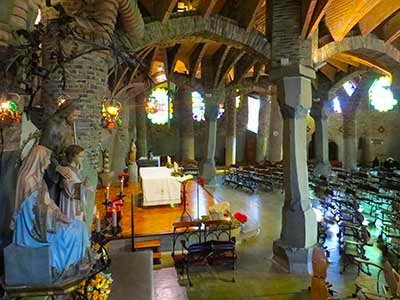 Altar of the crypt
---
Where is Colonia Güell?
More architecture of Gaudí: