Barcelona
/
Plaça de Catalunya
Plaça de Catalunya Barcelona
The central square in Barcelona 'Plaça de Catalunya'

Everything about the square Plaça de Catalunya in Barcelona. The busiest square between the old town and the district of Eixample serves as a major traffic artery in Barcelona.
Info Plaça de Catalunya Barcelona

Address
Plaça de Catalunya, Barcelona
Metro
Metro station Plaça de Catalunya (Line 1, 2, 3 or 6)
The central square of Barcelona
Plaça de Catalunya is the largest central square in Barcelona and connects the old town to the Eixample district. Several of the major traffic arteries in Barcelona come together on the Plaça de Catalunya, including five metro lines. This in combination with the many pigeons make it a bustling place to meet others. The big department store El Corte Inglés is also located on this square.
History of Plaça de Catalunya
The square Plaça de Catalunya was opened by Alfonso XIII in 1927 and has an area of five hectares. The area used to be an open stretch of land located in front of where the gates to the walled city of Barcelona used to be. The architects Pere Falques, Puig i Cadafalch and Francesc de Paula Nebot were involved in the design, and also has sculptures by famous artists such as Clarà and Llimona.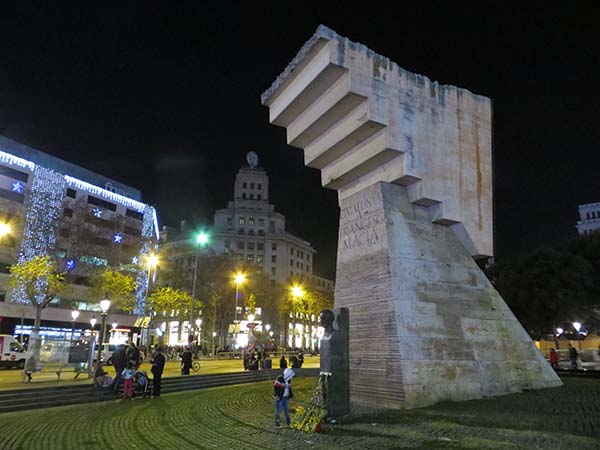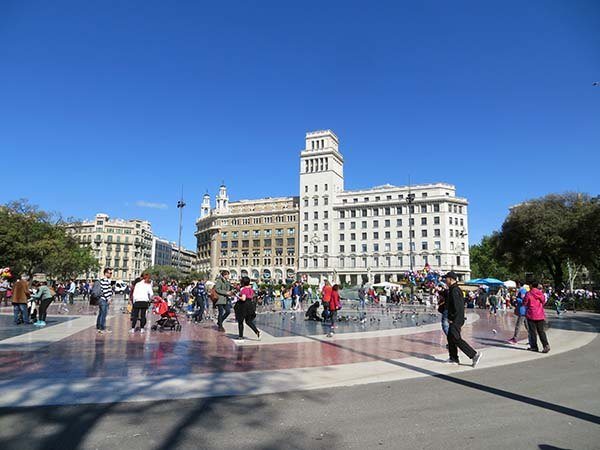 There are six groups of statues around the Plaça de Catalunya: they represent the four Catalan capitals, wisdom, and labour. One corner of the square has the monument (picture above) that was made for President Macia by Josep Maria Subirach (1991); he was also the sculptor of the passion façade of the Sagrada Familia. Francesc Macia (1859-1933) was a Catalan politician who fought for Catalan independence at the time of dictatorship.
For the 1929 World Fair, luxury hotels, bars, and theatres were built around Plaça de Catalunya, in the 'new' Barcelona. You can take a break on one of the benches in the 'Plaza de Cataluña' to watch the many people along with hundreds of pigeons. You can also opt to go to the top floor of the El Corte Ingles shopping centre and enjoy the view of the square; this is also where you find one of the few public toilets near Plaça de Catalunya.
---
Where is the square in Barcelona?
Near Plaça de Catalunya are: