Barcelona
/
Plaça Sant Jaume
Plaça Sant Jaume Barcelona
'Sant Jaume' square in the Gothic Quarter of Barcelona

Everything about visiting Plaça Sant Jaume. The square in the Gothic Quarter with the Palau de la Generalitat and the Ajuntament, Barcelona's city hall.
Plaça Sant Jaume

Address
Plaça Sant Jaume, Barcelona
Metro
Metro station Jaume I
The square in the Gothic Quarter
Plaça Sant Jaume, which is considered the political heart of Barcelona, was first used in 1823 and is located in the Gothic Quarter. On one side of the square of Sant Jaume is the 'Palau de la Generalitat'. On the other side lies the 'Ajuntament' (Barcelona city hall). Both buildings are generally closed to the public.
The Palau de la Generalitat is the seat of the Catalan government. It's a beautifully decorated, 15th-century palace. The Ajuntament currently serves as the office for Barcelona's mayor. This city hall has existed since the 14th century. That was when Barcelona's elites, the 'Consell de Cent' decided to build a reception building on the site of the old Roman forum. The most impressive room in city hall is the 'Saló de Cent' from 1369. The walls of city hall have been decorated with gold leaf, and beautiful crystal chandeliers are suspended from the ceiling. During the Spanish Civil War, the Ajuntament was seriously damaged, but everything was restored afterwards.
Events & Castells
The square is also where FC Barcelona is honoured after winning an important tournament. On important Catalan holidays, you can see the Sardanes and Castells here. Sardana is the dance of freedom and Castellers are human towers; both typically Catalan traditions.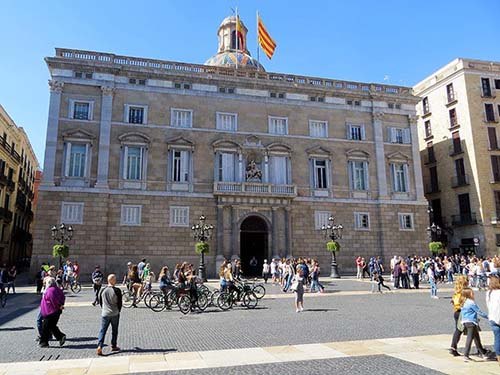 Palau de la Generalitat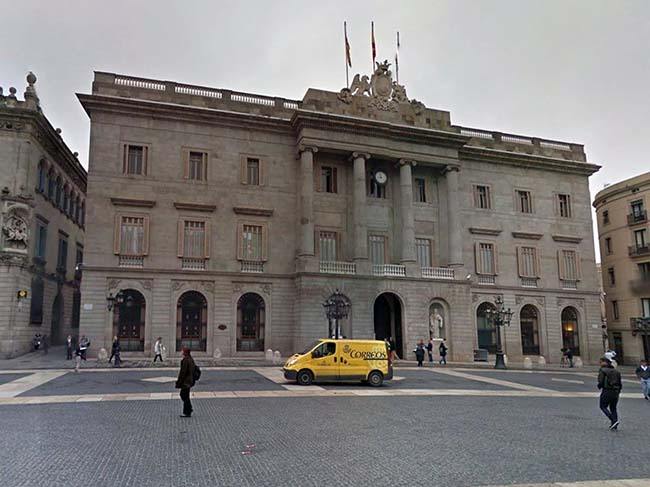 Barcelona City Council
Where is the square in Barcelona?
Close to Placa Sant Jaume are: