Barcelona
/
Bunkers del Carmel
Bunkers del Carmel
Turó de la Rovira, the best viewpoint in all of Barcelona

All the information about Bunkers del Carmel, or the old fortifications of Turó de la Rovira with the best – and free – panorama of all of Barcelona. Bunkers del Carmel is a viewpoint near Park Güell.
Bunkers del Carmel & Turó de la Rovira

Address
Carrer de Marià Lavèrnia Barcelona
Opening hours
The public park can be visited 24 hours a day
Turó de la Rovira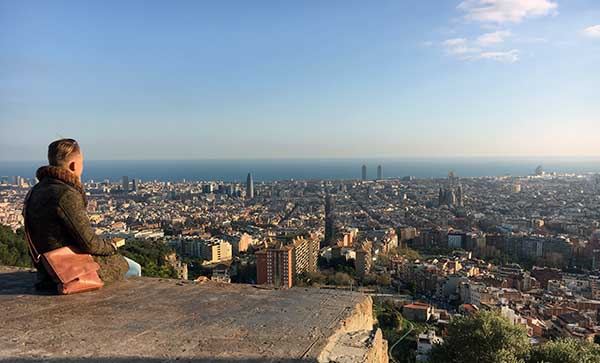 The Turó de la Rovira, perhaps even the best viewpoint in all of Barcelona, used to be a military base with anti-aircraft guns. This anti-aircraft battery 'Bunkers del Carmel' was constructed in 1937 to protect Barcelona amid the civil war. For years the area surrounding the bunkers was in a state of serious disrepair, but today only a few concrete remnants of this anti-aircraft battery remain visible, and the adjacent district has been extensively renovated. The area is now freely accessible. Particularly around early evening, you will see many locals who bring their own drinks and come here to enjoy the amazing 360-degree panorama.
How do you get to the bunkers del carmel?
If you want to visit the Bunkers del Carmel, please keep in mind that it involves a considerable uphill walk. The bunkers cannot be reached directly through public transport. There are three ways to get to the viewpoint:
1. Take metro line L5 to El Carmel. After leaving the metro stop, you turn into the 'Carre de la Conca de Tremp'. Follow this road for nearly a kilometre (There is a very steep section!). Once at the top, you turn right on the 'Carrer de la Gran Vista', followed by two lefts. Here you follow the Carrer de Mühlberg. After 500 metres, you will come to the bunkers.
2. Take metro line L4 to Guinardó - Hospital de Sant Pau. You can get to the top on foot via the 'Carrer del Telègraf' using a lift and escalators.
3. From Park Güell it's less than a fifteen-minute walk. In Park Güell you walk up diagonally (if you look careful, you can even see the bunkers on the next hill). The easiest way on foot is to use your smartphone's navigation and enter 'Carre de Mühlberg', and then follow this road for 500 metres when you get there.
More parks in Barcelona: