Barcelona
/
Las Arenas
Las Arenas Barcelona
Ancient bullfighting arena in Barcelona, is now a commercial center

Everything about a visit to the Las Arenas shopping centre. The former bullfighting arena on the Placa d'Espanya, that is now a large shopping centre.
Info Las Arenas

Address
Gran Via de les Corts Catalanes 373-385 Barcelona
Metro
Metro station Espanya (L3)
Opening hours
Monday to Saturday from 10:00am to 10:00pm
Website
http://arenasdebarcelona.com
Tip:
The sixth floor offers a wonderful view toward the Montjuïc. This roof terrace is freely accessible via the shopping centre's lifts and stairs.
Plaza de Toros 'Las Arenas'
In 1900 Las Arenas opened its doors as a bullfighting arena right on the Plaça d´Espanya. The last bullfight in this arena was held in 1977 and bullfighting was completely banned in Catalonia in 2012. Because of the heritage status of the façade, it was not allowed to be torn down. Renovation started in 2003 and shopping centre 'Las Arenas' opened its doors in 2011.
Shopping center 'Las Arenas'
The original exterior walls were kept in place for the shopping centre. It is a modern and indoor shopping centre featuring famous brands in 116 shops across six floors. There is also a cinema complex with 12 theatres and a gym.
The second floor has a continuous, free photo exhibition showing the building's (re)construction. On the top floor, there are changing exhibitions and a beautiful 360-degree view of the city and toward Montjuïc hill. Las Arenas has a large selection of restaurants (both on the ground floor and on the sixth floor with a view). There are also daily flamenco shows in Las Arenas.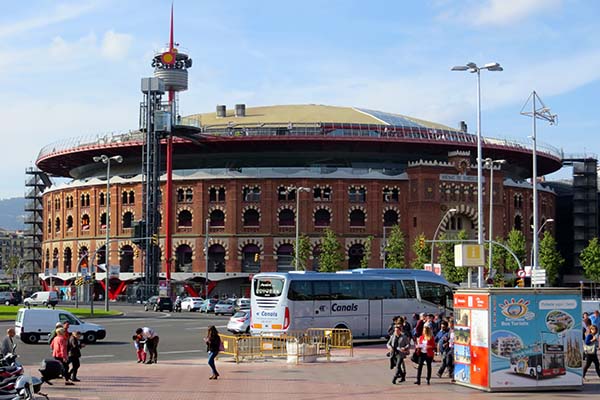 Shopping center 'Las Arenas'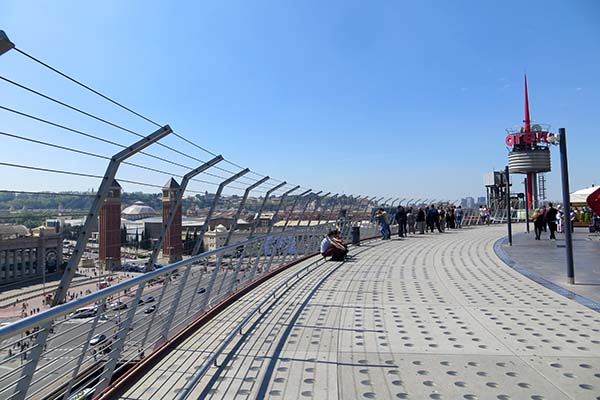 View from the roof of Las Arenas in Barcelona
Where is Las Arenas in Barcelona?