Barcelona
/
Poble Espanyol
Poble Espanyol Barcelona
An open air museum located on the Montjuïc hill

The Poble Espanyol in Barcelona, an open-air museum located on the Montjuïc hill. It was built for the Universal Exhibition of 1929.
Info Poble Espanyol Barcelona

Address
Avinguda del Marques de Comillas 13 Barcelona
Metro
Metro station Espanya
Bus:
Line 13 and 150
Tickets

Adults 14 € (Book online only 12.60 €)
0-4 years: free entry
4-12 years 7.00 €
Students 9.50 € and 65+ 8.40 €
Evening ticket (from 8 p.m.) 6.30 €

Opening hours

Monday: 09:00 to 20:00
Tuesday, Wednesday, Thursday and Sunday: 09:00 to 24:00
Friday: 09:00 to 03:00
Saturday: 09:00 to 04:00

Website
Website
Spanish village in Barcelona
Poble Espanyol means 'Spanish village' and is located on Montjuïc hill. You won't find a village like this anywhere in Spain by the way because the Poble Espanyol open-air museum combines architectural styles from all over Spain. El Poble Espanyol was built on the Montjuïc for 1929 World Fair in Barcelona, and the plan was to tear the Spanish village down again after the exhibition was over. They never did because the village turned out to be so popular among both tourists and locals. The village is a nice representation of types of architecture used in Spain.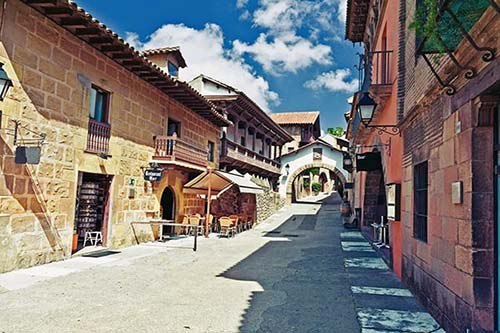 The atmosphere of the Spanish village (iStock.com/vicnt)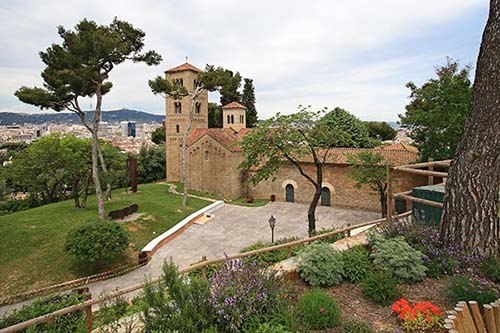 Visit of Poble Espanyol (iStock.com/kiev4)
Visit the open-air museum
On 42,000 m2 of the Spanish open air museum, 117 buildings can be seen from Andalusia, Castile and Leon, Navarra, the Basque Country and, of course, Catalonia. I30 shops and 18 restaurants have been housed in most of the buildings. There are also frequent demonstrations of traditional Spanish crafts.
During the evenings, a number of activities are organised, including concerts, flamenco shows, and theatre performances. Because of the influence from all the regions of Spain, it feels like a miniature version of the country. You will see many things there, from monasteries to arches, the square of Placa Mayor and bell towers. It's a particularly popular Barcelona tourist attraction among the Spanish themselves.
---
Video 'El Poble Espanyol'
---
Where is Poble Espanyol in Barcelona?
Near Poble Espanyol are: